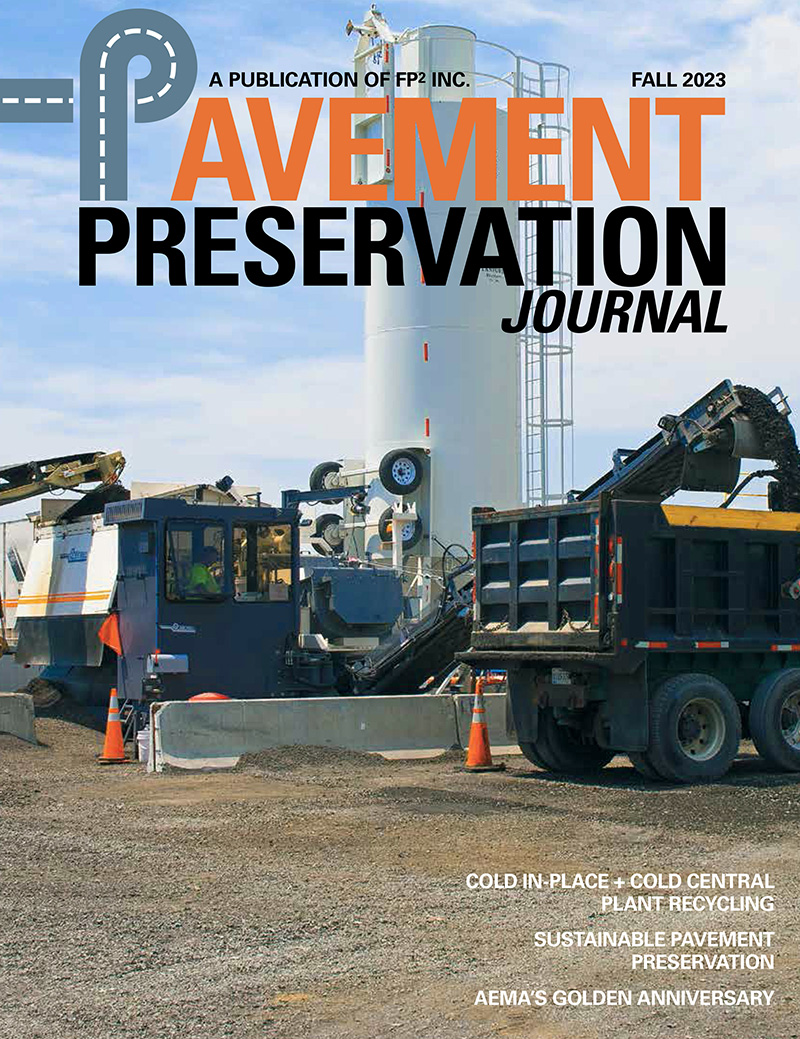 Welcome to Pavement Preservation Journal! Since 2007, FP2 Inc. has published Pavement Preservation Journal, the only trade magazine in the United States to focus EXCLUSIVELY on pavement preservation principles and practice. CLICK HERE for the current issue of Pavement Preservation Journal and archive. Pavement Preservation Journal is the official magazine of FP2 Inc. This flagship quarterly magazine reaches those responsible for the management and preservation of pavements, including state, county, municipal and federal government agencies, plus members of sponsoring associations such as the Asphalt Emulsion Manufacturers Association,  International Slurry Surfacing Association, Asphalt Recycling & Reclaiming Association, International Grooving & Grinding Association, and more. Pavement Preservation Journal also is available to readers in a fully interactive digital version, which complements the print format. Not only do our members receive the print and digital editions of the magazine, the digital edition is also sent to additional readers with an interest in pavement preservation. Readers can turn pages to browse articles and information, and with a simple click of the mouse can instantly access an advertiser's website.
Are you a pavement preservation professional?
Subscribe at no charge to Pavement Preservation Journal, the only industry journal exclusively dedicated to pavement preservation!
Editorial Content
Our quarterly journal includes contributed field case study articles on all aspects of pavement preservation. We run peer-reviewed technical research papers, edited for maximum readership. We also cover news from member associations, the National Center for Pavement Preservation, regional pavement preservation partnerships, state preservation centers, and state and national pavement technology research institutions. While each issue has a theme, each issue's content is not limited to one theme. There are no limitations on the topics that may be submitted. To repeat, your contribution need not reflect the given editorial themes. New research, new material or equipment introductions, meeting reports, meeting or publication announcements, or recent presentations, all are valid editorial topics. Pavement Preservation Journal gives you and your affiliation, agency, business, association or regional partnership a platform from which to reach the publics who are most important to your livelihoods. We hope you will take advantage of this great opportunity to contribute editorially. Please address editorial questions or submittals to Tom Kuennen, Editor, Pavement Preservation Journal, [email protected], office 262.618.4819, mobile 847.650.7192 For more information, download our Editorial Guidelines here.
Advertise in Pavement Preservation Journal
To advertise in Pavement Preservation Journal, or to address communications, contact: Paul Walley Publication Director 800-369-6220 352.333.3487 e-mail: [email protected] For more information about advertising in Pavement Preservation Journal, click here.